COMMERCIAL LAUNDRY SOLUTIONS DESIGNED TO CLEAN WITH EFFICIENCY
Efficiency is critical in the commercial laundry business. Getting it clean the first time, without the need for recleans, requires a precise combination of premium products, water quality, cycle time, mechanical action, and temperature to meet the unique challenges of your operation.  FLEX Commercial Laundry Solutions provides innovative products with optimum cleaning power, supported by fully trained technical service personnel. You can count on consistency, peak results, and reduced operational costs.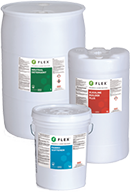 CUSTOMER TESTIMONIALS
WHAT OUR CUSTOMERS ARE SAYING
Since the installation of our FLEX Laundry System the results are nothing short of spectacular. We have seen tremendous improvement in the overall cleaning of garments while adding a pleasant scent. Having cycles tailored to our needs is especially useful in the textile restoration industry. I would highly recommend the FLEX Laundry System.
We had no idea how much we could improve the quality of our products and our efficiency in our cleaning process until we switched to the Flex Laundry system.  We were throwing away linens that we thought were unrecoverable due to stains and mildew.  Thanks to the products and services we are now using with Flex we are able to save all newly stained linens as well as recover the old linens we had written off as a loss.  Our linens now are being cleaned after one wash with no pretreating or scrubbing.  The colors are brighter and there is no fading with the pre-treatment and overuse of chemicals that we had before.

We could not be happier with the professional service and knowledgeable staff working with us to solve our problems and save us time and money which in turn saves our clients money by allowing us to lower our cleaning costs.  We would recommend them to anyone looking to increase productivity and efficiency while decreasing business costs and labor.
We were given a huge project to launder the towels, washcloths and blankets from the dorms of the largest university in the state of Tennessee.  It was summertime and the items were filthy.  Many were stained with mold and mildew as well as suntan solutions. Unfortunately, the first time we cleaned these items we did not have Flex products.  A majority of the items needed to be recleaned and it was unlikely the stains could be removed.  Rick, our Flex Representative, installed the Flex products and put together a reclaim program in order to save the items.

The Flex products were a major advancement over the previous products we were using.   We were able to recover 90% of the linens that we thought were unsalvageable!  This saved the University a lot of money.  Now, I can confidently go after this type of business in the future.  I just wish we would have used Flex products the first time to avoid the time and labor cost of reruns.