Flawless ™
1 GAL; (INCLUDES 32 OZ SPRAY BOTTLE)
95
Flawless is a versatile multi-purpose glass and surface cleaner formulated to clean a variety of surfaces, including windows, mirrors, stainless steel, fiberglass, lenses and other hard surfaces. It's fast-drying, streak-free formula works well on glass surfaces removing fingerprints, dirt, film, grease, oil and smudges—leaving a residue-free shine.
Cleans a variety of surfaces
Removes residue and film
Fast drying and residue free
Streak-free formula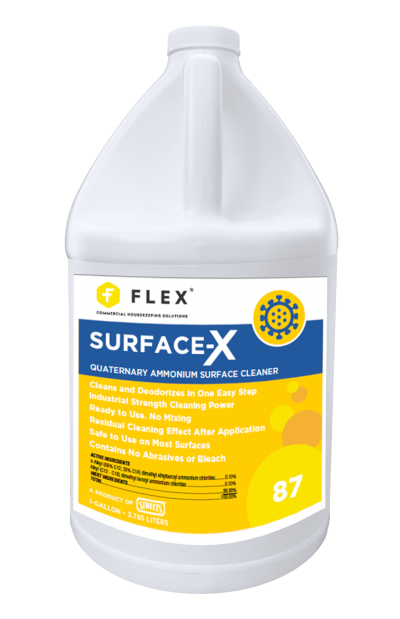 SURFACE-X ™
1 GAL; (INCLUDES 32 OZ SPRAY BOTTLE)
87
SURFACE-X™ is a ready-to-use quaternary ammonium cleaner for hard, non-porous surfaces. It contains NO abrasives or bleach, and is safe to use on most surfaces.
Cleans and deodorizes in one easy step
Conveniently ready-to-use with no dilution needed
Industrial strength cleaning power
Quaternary formula helps ensure your surface is clean
Safe to use on most surfaces
Contains no abrasives or bleach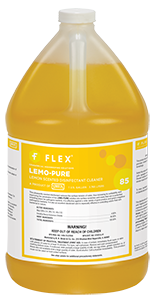 LEMO-PURE ™
1 GAL; (INCLUDES 32 OZ SPRAY BOTTLE)
85
LEMO-PURE is a liquid quaternary ammonium based disinfectant cleaner, which effectively cleans, disinfects and deodorizes hard surfaces, including bathrooms (tubs, toilets, and fixtures), floors, counters and countertop laminates, walls, tables, appliances, metal and steel, porcelain, coils and drain pans of air conditioning and refrigeration equipment, heat pumps, glazed tiles, cabinets, vinyl and plastic upholstery, stove tops, sinks, refrigerators, door knobs and handles, windows and mirrors.
Disinfectant, fungicide and virucide
Multi-use cleaner and deodorizer
Effective at killing a variety of bacteria, viruses, and microorganisms
Effective at killing the pathogenic athlete's foot fungus
Safe for use on a variety of hard non-porous surfaces
EPA registered