EPA Registered Hygiene Products
RESTORING CONFIDENCE IN CLEAN™
While there are many Street's products and processes designed to ensure optimum cleaning and the removal of germs and contaminants from fabrics and surfaces, Street's hygiene line is comprised of sanitizers, virucides, bacteriacides, fungicides, and disinfectants that are EPA registered with tested kill claims that can be made against various bacteria, viruses, fungi, and other contaminants.
Our hygiene line offers a targeted level of attack against specific germs and contaminants that are particularly dangerous in environments like healthcare and hospitality, and also can help prevent the spread of cross-contamination when used as directed. With these products comes the confidence of EPA testing and registration, which complement best practices of cleaning both fabric and hard surfaces.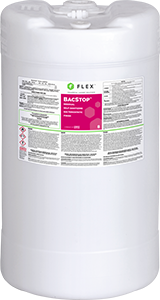 BacStop™
RESIDUAL SELF-SANITIZING BACTERIOSTATIC LAUNDRY FINISH
EPA Registration Number: 7048-8-94200
Ready-to-use liquid laundry sanitizer. When used in the final rinse, BacStop™ leaves behind a finish that is both self-sanitizing and bacteriostatic, continuing to aid in the prevention of cross-contamination from both Gram Negative bacteria (ie. Klebsiella pneumonia) and Gram Positive bacteria (ie. Staph – a major cause of hospital acquired (nosocomial) and Community Acquired infections).
Reduces bacterial count by minimum 99.9%

Kills odor-causing bacteria

Sanitizes Fabrics

Effective against Staph & Strep

Remains active throughout the use cycle of the uniforms, linens and other textiles.

EPA registered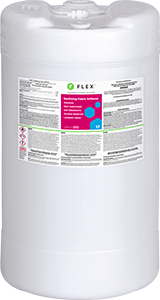 Sanitizing Fabric Softener™
RESIDUAL LAUNDRY BACTERIOSTAT & SELF-SANITIZER
EPA Registration Number: 1839-107-94200
Liquid laundry fabric softener and sanitizer formulated specifically for hospitals, nursing homes, schools, and other institutions.
Fabric Softener Concentrate

Residual Bacteriostatic

Residual Self-Sanitizer

Safe for use on a variety of fabrics, including athletic apparel, uniforms, bedding, towels, hospital and institutional linen

Reduces odor causing bacteria under conditions of high relative humidity or wet contamination

EPA registered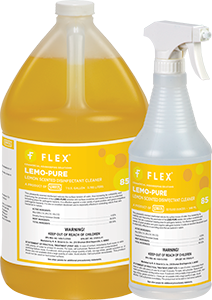 LEMO-PURE™
DISINFECTANT, FUNGICIDE, AND VIRUCIDE CLEANER AND DEODORIZER
EPA Registration Number: 3862-53-94200
Phosphate-free hard surface cleaner designed to provide effective cleaning, deodorizing, and disinfection specifically for hospitals, nursing homes, schools, and other institutions.
Multi-use disinfectant cleaner and deodorizer

Effective at killing a variety of bacteria, viruses ,and microorganisms

Effective at killing pathogenic fungi (athlete's foot)

Safe for use on a variety of hard non-porous surfaces

Lemon scented

EPA registered
Exhibits effective virucidal activity viruses such as:
Common flu virus

Herpes Simplex Type 1

Adenovirus Type 2 (causative agent of upper respiratory infections)

Vaccinia virus (Pox virus group),

Human Immunodeficiency Virus Type 1 (HIV-1)

Hepatitis B Virus (HBV)

Pandemic 2009 H1N1 Influenza A virus

and others

NINJA™
HARD SURFACE DISINFECTANT
EPA Registration Number: 1839-83-94200
NINJA™ is a ready-to-use, one-step germicidal disinfectant cleaner and odor neutralizer that attacks a wide variety of pathogenic microorganisms, including bacteria, antibiotic resistant bacteria, viruses, fungi, mold, and mildew on hard, non-porous inanimate surfaces.
Virucide, bactericide, fungicide, tuberculocide, mildewstat, hospital strength cleaner, deodorizer, and disinfectant

Kills 99.9% of germs and bacteria (See specific bacteriacidal and virucidal activity below)

Helps protect staff involved with clean up of spills containing potentially infectious material or bodily fluids

Cuts tough grease and grime without scrubbing

Doesn't leave behind grit or soap scum.

Eliminates odors, leaving surfaces smelling clean and fresh

Contains no abrasives, bleach, or phosphates

Meets OSHA Bloodborne Pathogen Standard for HIV, HBV & HCV

Proudly made in the United States